It seemed like a normal day, taking my kids to the downtown library story hour, David meeting up with us and then heading to the courtyard for lunch.
But then
, I walked into the courtyard behind a mother wearing a shirt with this verse on the back,
"Speak up for those who cannot speak for themselves...." Proverbs 31:8A.
I simply said to her. "I like your shirt," which then led us into a discussion about
147 million Orphans
. She had adopted her son and had plans to adopt again. She told me about this organization and it's goal to raise awareness of orphans as well as raise money. I told her how we have been thinking about international adoption. Pretty cool!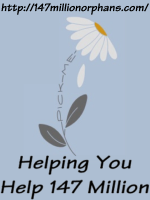 But then,
I go home and decide to visit a friend's blog who adopted from Ethiopia. I have not been to it for awhile so I scrolled down several posts and came to a post about her finding this amazing blog. It turns out to be the sister of the family who started 147 Million Orphans! Again, pretty cool!
But then,
I was over at a neighborhood friend's house this afternoon so the kids could play and I was telling her about my day. She then tells me that these fair-trade, organic blankets we have been wanting to have made by a Sudanese refugee is also the same seamstress for these bags below.
So, not quite the normal day that it had started out to be and sparked my heart even more to continue our quest in international adoption. Does anyone else have days like these?